PaperCut Software
PaperCut Software is an easy to use copy and print management application for multi-functional device users.
It provides companies with the ability to report and monitor on all its printing activity from a simple to use web browser interface. This allows for accurate budgeting and forecasting. These features reduce waste, encourage responsible behaviours, and make users and departments accountable for their printing and copying.
---
PaperCut can support companies from just five members of staff up to 500,000 users, working on all platforms which includes the following: Windows, Mac, Novell, Linux and more. It rates as the best and simplest print management software on the market today. It makes a complicated task as straight forward and painless as possible. It can also be used alongside all the leading printer and photocopier brands.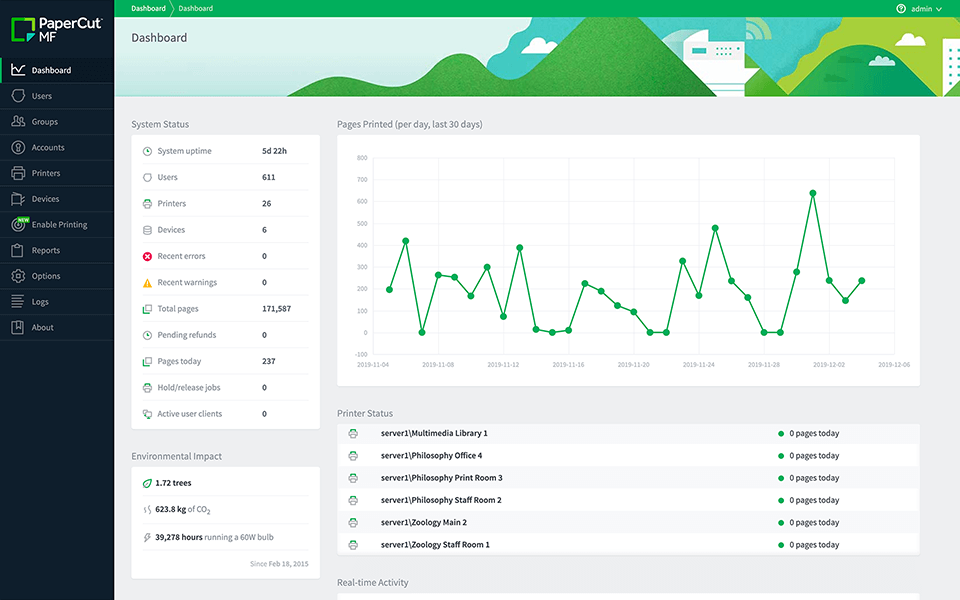 What can PaperCut MF do?
Print Visibility – Instantly see who is printing and what they are printing. This can be done for departments or individual users. Using unique logins, your users become accountable for their printing, which will in turn reduce your printing costs.
Printing Policies – You can create rules to limit users' behaviour. For example, you can limit specific users to only be allowed to print in black and white and also ensure all printing to be double sided.
Document Security – The software requires users have to login once at the printer to release their print jobs. This means that there aren't just stacks of sensitive documents sat in the printer. You also have the ability to add an extra layer of security by adding watermarking to include the user's ID to each document they print.
Cost Control – LPR provides a fixed cost per print for the duration of your service contract so know exactly what you are paying per print. This means you can assign this cost to each user to see whose printing is costing the most.
Bring your own Device –  You can integrate PaperCut with Google Cloud Print, Web Print and iOS Printing for all your mobile and tablet devices. This can be deployed in a pre-configured form for your network via a simple URL.
Would you like more information regarding PaperCut?
PaperCut MF software is guaranteed to reduce printing by 15% *industry standard. It guarantees you will reduce your business printing, therefore reducing your costs at the same time, as you will be producing less output and waste.
Please call or request a call back today from one of our experienced consultants. Freephone 0800-772-0101 or email info@londonprinterrentals.com.
---
Rent your photocopier or printer today call 0800 772 0101
If you are interested in discussing options for renting a photocopier or printer on a short term basis or long term lease give one of our experienced consultants a call on 0800 772 0101 or email us at info@londonprinterrentals.com.
London Printer Rentals are the photocopier company you can rely on:
Serving, London, Surrey, Essex, Kent, Middlesex, Hertfordshire & Nationwide
£150 John Lewis Voucher with Every New Lease*
Lease a new Canon or Konica printer or photocopier & receive a free £150 John Lewis voucher, get your printer lease quote today!
Why rent your printer or photocopier from us?
We provide a wide range of exceptional quality printers & photocopiers from the worlds best manufacturers, all for the great price that you would expect from us, one of the UK's best short-term printer rental providers.
Gold star service agreement
60-day cancellation policy
No minimum volume contracts