Konica C368
---
Low Volume Colour Photocopier
Konica's C368 low volume A3 colour photocopier is available for short term printer rental or photocopier hire with our Best Price Guarantee. With increased workforce mobility, there are ever-greater demands for speed and efficiency. That's why the Konica C368 delivers its brilliant full colour output at 36 pages per minute at A4 size. The Konica C368's 1800 x 600 enhanced dpi print resolution, or 1200 x 1200 real dpi produces vibrant colour office communications and brings your ideas to life. The C368 multi-functional printer also offers high quality scanning at up to 600 dpi. A wide range of print and scan sizes are supported, up to A3. Your business will benefit from more powerful performance, and high-quality output with greater impact lease your Konica C368 today.
---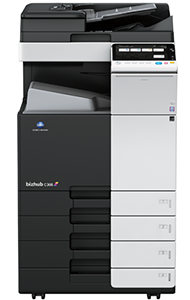 The Konica C368 replaces the hugely successful Konica C364e. Featuring greater customisation of the user interface and the option of NFC support for printing and scanning from mobile devices.
The C368 builds on the tried and tested engine of the Konica C224e/284e/364e.
Standard System includes:
36 pages per minute colour/B&W
100 sheet duplex document feeder
2x 500 sheet cassettes, 150 sheet manual feed
Cabinet
Duplex
Maximum paper weight 300gsm
Maximum paper size SRA3
Banner printing (1200mm x 297mm)
Copy, Print, and Scan
AirPrint enabled
Scan to FTP / SMB / WebDAV / E-mail
PCL6 and PostScript as standard
---
£150 John Lewis Voucher with Every New Lease*
Lease a new Canon or Konica printer or photocopier & receive a free £150 John Lewis voucher, get your printer lease quote today!
For special offers on the Konica C368 call 0800 772 0101
Call now for a discount
Quote: LPR19151011 for your discount
Free delivery & installation
Quick delivery, professional installation
Nationwide service agreements
No small print, No contract cancellation fee
Excellent aftersales support
2-hour London callout response times
Konica C368 specifications
Copier Specifications
Copying process Electrostatic laser copy, tandem, indirect
Toner system Simitri HD® polymerised toner
Copy/print speed A4 mono (cpm)36
Copy/print speed A4 colour (cpm)36
Copy/print speed A3 mono (cpm)18
Copy/print speed A3 colour (cpm)18
Auto duplex speed A4 mono (cpm)36
Auto duplex speed A4 colour (cpm)36
1st Copy/print time mono (sec)5.3
1st Copy/print time colour (sec)6.9
Warm-up time (sec)Approx. 20 *
* Warm up time may vary depending on the operating environment and usage
Copy resolution (dpi)600 x 600
Gradations 256 gradations
Multi-copy1-9,999
Original format A5-A3
Magnification 25-400% in 0.1% steps; auto-zooming
Copy functions Chapter; cover and page insertion; proof copy (print and screen); adjustment test print; digital art functions; job setting memory; poster mode; image repeat; overlay (optional); stamping; copy protection
Printer Specifications
Print resolution (dpi)1,800 x 600
1,200 x 1,200
Page description language PCL 6 (XL 3.0)
PCL 5c
PostScript 3 (CPSI 3016)
XPS
Operating systems Windows VISTA (32/64)
Windows 7 (32/64)
Windows 8 (32/64)
Windows Server 2008 (32/64)
Windows Server 2008 R2 (64)
Windows Server 2012 (64)
Windows Server 2012 R2
Macintosh OS X 10.x
Unix, Linux, Citrix
Printer fonts 80 PCL Latin; 137 PostScript 3 Emulation Latin
Print functions Direct print of PCL, PS, TIFF, XPS, PDF (v1.7),encrypted PDF files and OOXML (DOCX, XLSX, PPTX);mix media and mixplex; "Easy Set" job programming;overlay; watermark; copy protection; carbon copy print
Mobile printing AirPrint (iOS), Mopria (Android), Google Cloud Print (optional), WiFi Direct (optional), Konica Minolta Print Service (Android), PageScope Mobile (iOS, Android); NFC Authentication and Pairing (Android)
Scanner Specifications
Scan speed colour (opm)Up to 160 ipm (with optional DF-704)
Scan Speed mono (opm)Up to 160 ipm (with optional DF-704)
Scan resolution (dpi)Max.: 600 x 600
Scan modes Scan-to-eMail (Scan-to-Me)
Scan-to-SMB (Scan-to-Home)
Scan-to-FTP
Scan-to-Box
Scan-to-USB
Scan-to-WebDAV
Scan-to-DPWS
Network TWAIN scan
File formats JPEG; TIFF; PDF; PDF/A 1a and 1b (optional); compact PDF; encrypted PDF; searchable PDF (optional); XPS; compact XPS; PPTX; searchable DOCX/XLSX/PPTX (optional)
Scan destinations 2,100 (single + group); LDAP support
Scan functions Annotation (text/time/date) for PDF; up to 400 job programs; real-time scan preview
Fax Specifications
Fax standard Super G3 (optional)
Fax transmission Analogue
i-Fax
Colour i-Fax (RFC3949-C)
IP-Fax
Fax resolution (dpi)Max.: 600 x 600 (ultra-fine)
Fax compression MH; MR; MMR; JBIG
Fax modem (Kbps)Up to 33.6 Kbps
Fax destinations 2,100 (single + group)
Fax functions Polling; time shift; PC-Fax; receipt to confidential box;
Receipt to e-mail/FTP/SMB; up to 400 job programs
User box specification
Max. storable documents Up to 3,000 documents or 10,000 pages
Type of user boxes Public
Personal (with password or authentication)
Group (with authentication)
Type of system boxes Secure print
Encrypted PDF print
Fax receipt
Fax polling
User box functionality Reprint; combination
Download
Sending (e-mail/FTP/SMB and Fax)
Copy box to box
System Specifications
System memory standard (MB)2,048 (standard)
System hard disc standard (GB)250 (standard)
Interfaces standard 10-Base-T/100-Base-T/1,000-Base-T Ethernet; USB 2.0
Network protocols TCP/IP (IPv4 / IPv6); IPX/SPX; NetBEUI; AppleTalk (EtherTalk); SMB; LPD; IPP; SNMP; HTTP
Frame types Ethernet 802.2; Ethernet 802.3; Ethernet II; Ethernet SNAP
Automatic document feeder Up to 100 originals; A6-A3; 35-163 gsm
RADF or Dual scan ADF available
Paper size A6-SRA3, customised paper sizes;
banner paper max. 1,200 x 297 mm
Printable paper weight (g/m²)52-300 gsm
Paper input capacity (sheets)Standard: 1,150
Max.: 6,650 sheets
Automatic duplexing A5-SRA3; 52-256 gsm
Finishing modes (optional)Offset; group; sort; staple; punch; centre-fold; letter fold; booklet
Output capacity (w. finisher)Max.: 3,300 sheets
Output capacity (w/o finisher)Max.: 250 sheets
Stapling 50 sheets or 48 sheets + 2 cover sheets (up to 209 gsm)
Stapling output capacity Max. 1,000 sheets
Letter fold Up to 3 sheets
Letter fold capacity Max.: 30 sheets (tray); unlimited
Booklet Max.: 20 sheets or 19 sheets + 1 cover sheet (up to 209 gsm)
Booklet output capacity Max.: 100 sheets (tray); unlimited
Copy/print volume recommended (monthly)25,000 pages
Copy/print volume max. (monthly)125,000 pages
Toner lifetime Black28,000
Toner lifetime CMY26,000
Developer lifetime Black600,000
Developer lifetime CMY600,000
Drum lifetime Black120,000
Drum lifetime CMY90,000
Power consumption 220-240 V / 50/60 Hz
Less than 1.5 kW (system)
System dimensions (WxDxH, mm)615 x 685 x 771 mm (excl. ADF and lower paper tray unit)
System weight (kg)Approx. 85
Paper trays standard Tray 1: 500 sheets, A5-A3, 52-256 gsm
Tray 2: 500 sheets, A5-SRA3, 52-256 gsm
Manual Bypass: 150 sheets, A6-SRA3, custom sizes, banner, 60-300 gsm
Paper trays optional Tray 3: 1x 500 sheets, A5-A3, 52-256 gsm
Tray 3 + 4: 2x 500 sheets, A5-A3, 52-256 gsm
Large Capacity Cabinet: 2,500 sheets, A4, 52-256 gsm
Large Capacity Cabinet (1): 3,000 sheets, A4, 52-256 gsm (LU-302)
Manual Bypass: 150 sheets, A6-SRA3, custom sizes, banner, 60-300 gsm
System Features
Security ISO 15408/IEEE 2600.2 compliant (in evaluation);
IP filtering and port blocking;
SSL2; SSL3 and TSL1.0 network communication;
IPsec support; IEEE 802.1x support; user authentication;
Authentication log; secure print;
Hard disk overwrite (8 standard types);
Hard disk data encryption (AES 256);
Hard disk mirroring (optional); Memory data auto deletion;
Confidential fax receipt; Print user data encryption;
copy protection (Copy Guard, Password Copy) optional
Accounting 1 Up to 1,000 user accounts; Active Directory support (user name + password + e-mail + smb folder)
User function access definition
Biometric authentication (finger vein scanner) optional
ID card authentication (ID card reader) optional
SoftwarePageScope Net Care Device Manager
PageScope Data Administrator
PageScope Box Operator
PageScope Direct Print
Print Status Notifier
Driver Packaging Utility
Log Management Utility
Why rent your printer or photocopier from us?
We provide a wide range of exceptional quality printers & photocopiers from the worlds best manufacturers, all for the great price that you would expect from us, one of the UK's best short-term printer rental providers.
Gold star service agreement
60-day cancellation policy
No minimum volume contracts