Konica C364e
---
Low Volume Colour Photocopier
Konica's C364e photocopier is an energy efficient quality A3 colour photocopier. Lease the Konica C364e with our cost effective photocopier leasing services. The Konica C364e is unsurpassed in its ability to deliver high-quality, low-cost colour documents without slowing down your workflow. The Konica C364e consumes less power, with energy-saving modes including an Optimize Power Consumption mode that automatically sets correct on/off/standby status for workdays, weekends and holidays. The control panel features an Eco-indicator screen that allows you to monitor paper, toner and energy usage by device, account or end-user. Energy efficient LED lamps reduce energy consumption during scanning – and blank page removal during scanning or copying saves more paper. And thanks to one-watt power consumption in sleep mode your Konica C364e isn't burning your budget when it isn't in use.
---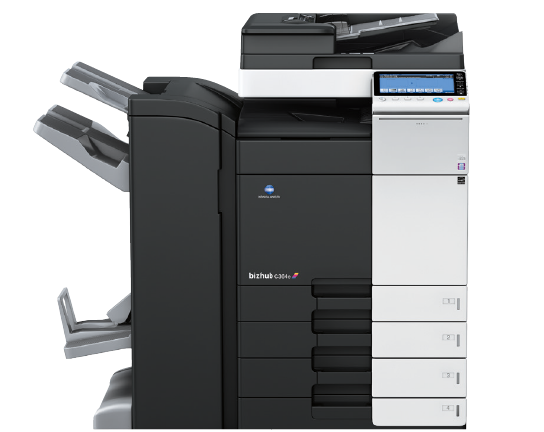 Konica have updated their current range further with the release of the bizhub 'e' models, this new range features enhanced power saving and ever greater ease of use.
The Konica C364e replaces the Konica C364. This product also comes to market as the Develop ineo+ 364e.
Part Number: A5C1121
Standard System includes:
36 pages per minute colour/B&W
100 sheet duplex document feeder
2x 500 sheet cassettes, 100 sheet manual feed
Cabinet
Duplex
Maximum paper weight 300gsm
Maximum paper size SRA3
Banner printing (1200mm x 297mm)
Copy, Print, and Scan
AirPrint enabled
Scan to FTP / SMB / WebDAV / E-mail
PCL6 and PostScript as standard
---
£150 John Lewis Voucher with Every New Lease*
Lease a new Canon or Konica printer or photocopier & receive a free £150 John Lewis voucher, get your printer lease quote today!
For special offers on the Konica C364e call 0800 772 0101
Call now for a discount
Quote: LPR21651011 for your discount
Free delivery & installation
Quick delivery, professional installation
Nationwide service agreements
No small print, No contract cancellation fee
Excellent aftersales support
2-hour London callout response times
Konica C364e specifications
Specifications
1800 dpi (equivalent) 600 dpi
Sheets, books, objects (Max. weight limit: 4-7/16 lb (2 kg))
Main unit: 11 17 to 8-1/2 11, 5-1/2 8-1/2, SRA3*1, A3 to A5, 8 13*2, 16K, 8K, Postcard (4 6 (A6 Card))
Bypass tray: 11 17 to 5-1/2 8-1/2, SRA3, A3 to A5, B6 , A6 , 8 13*2, 16K, 8K, Postcard (4 6(A6 Card)), Envelope*3, Index paper, Banner paper (Width: 8-1/4 inches to 11-11/16 inches (210 mm to 297 mm), Length: 18 inches to 47-1/4 inches (457 mm to 1200 mm))*4
*1 SRA3 paper can be used in Tray 2.
*2 There are six types of foolscap: 8-1/2 13-1/2 , 220 mm 330 mm , 8-1/2 13 , 8-1/4 13 , 8-1/8 13-1/4 , and 8 13 . Any one of these sizes is selectable. For details, contact your service representative.
*3 Wrinkles or printing error may occur due to the type, storage or printing environment of envelope.
*4 Printing on banner paper can only be performed from PC.
Top edge: Max. 3/16 inches (4.2 mm) or less, Bottom edge: Max. 1/8 inches (3 mm) or less, Right/left edges: Max. 1/8 inches (3 mm) or less
Main unit: 13-13/16 lb to 68-1/8 lb (52 g/m2 to 256 g/m2)
Bypass tray: 13-13/16 lb to 79-13/16 lb (52 g/m2 to 300 g/m2)
Warm-up time (73.4 °F (23 °C), std. voltage)
Time period from when the sub power off mode is released to when this machine is ready for printing while the Main Power Switch is in the ON state
bizhub C364e 20 sec. or less
bizhub C364e
20 sec. or less
* Warm-up time may vary depending on the operating environment and usage.
bizhub C364e Full color: 6.9 sec. or less, Black: 5.3 sec. or less
Copy speed (Full color/Black)
bizhub C364e
36 sheets/min. (8-1/2 11 or 7-1/4 10-1/2 (A4 or B5 ))
20 sheets/min. (8-1/2 14 (B4))
17 sheets/min. (11 17 (A3))
* The printing speed may decrease when printing in 1200 dpi 1200 dpi mode, or printing on paper other than plain paper.
< Fixed same magnification >
Full size 1 : 1 +/- 0.5% or less
Enlarge size 1: 1.154/1.224/1.414/2.000
Reduced size 1: 0.866/0.816/0.707/0.500
< Preset >
3 types
< Zoom >
25% to 400% (in 0.1% increments)
< Lengthwise crosswise individual settings >
25% to 400% (in 0.1% increments)
Paper handling/paper capacity
Paper Trays (550 sheets (universal cassette) 2) (17 lb (64 g/m2))
Bypass tray 165 sheets (17 lb (64 g/m2))
250 sheets (when the optional Output Tray OT-506 is installed for bizhub C554e/C454e)
Number of continuous copies
Non-stack type
Paper sizes: 12-1/4 18 (A3 wide (311.1 mm 457.2 mm)), 12 18 (A3 wide (304.8 mm 457.2 mm)), 11 17 to 5-1/2 8-1/2 , 7-1/4 10-1/2, SRA3, A3 to A5, B6 , A6 , 8 13, Postcard (4 6(A6 Card))
Paper weight: 13-13/16 lb to 68-1/8 lb (52 g/m2 to 256 g/m2)
bizhub C364e
AC 120 V, 12 A, 60 Hz (AC 220 V to 240 V, 8.0 A, 50/60 Hz)
bizhub C364e 1.5 kW (1.58 kW)
bizhub C364e
24-3/16 inches (615 mm) 26-15/16 inches (685 mm) 30-11/16 inches (779 mm) (Main unit and up to the surface of Original Grass)
Space Requirements [W] [D]
bizhub C364e
36-7/8 inches (937 mm) 47-13/16 inches (1214 mm)
* This shows the dimensions when the Paper Trays are pulled out and the Tray Extension of the Bypass Tray is opened.
bizhub C364e Approx. 187-3/8 lb (85 kg)
Why rent your printer or photocopier from us?
We provide a wide range of exceptional quality printers & photocopiers from the worlds best manufacturers, all for the great price that you would expect from us, one of the UK's best short-term printer rental providers.
Gold star service agreement
60-day cancellation policy
No minimum volume contracts